What if we count the iPad as a Computer…
Remember this graph from Fortune?
Source: Fortune
I found it  to be a bit odd.
Reasons:
the iPad hasn't only been on sale in the third quarter of 2011 – why didn't Deutsche Bank update Q3/2010 to Q2/2011 as well?
the dropoffs of the other manufacturers are too steep – I know the Gartner numbers for Q3 from memory reading tech blogs
So I went and did the legwork the Deutsche Bank analyst obviously didn't want to do. Six hours later this is the result.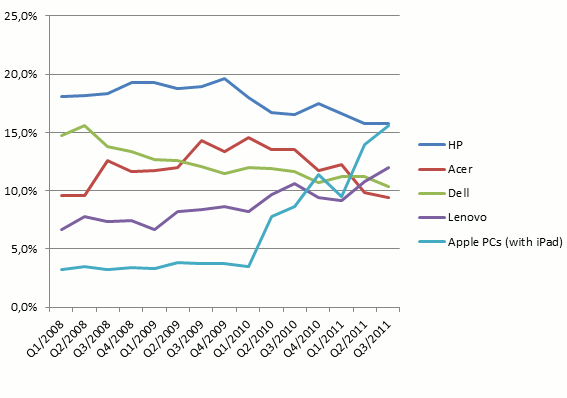 (global PC market share with iPad)
I took my numbers from Gartner and Apple PR press releases. All of them are available online, you can find a list of the sources below.
Something must have gone horribly horribly wrong over at Deutsche Bank because I just don't see THAT much of an effect. I don't know what Chris Whitmore did but there's just something wrong with his math. Global PC sales were 92 Million in Q3/2011 including 5 million Macs sold by Apple. They also sold 11 Million iPads which brings the total number up to 103 million "PCs". If you look at the Deutsche Bank numbers HP has a market share of 17% (Gartner gives it as 17.7%). To make them drop off to under 15% as the Deutsche Bank graphs shows Apple would have had to sell over 18 million iPads which they simply didn't.
If you ask me the Deutsche Bank analyst simply added the Macs (5 million) to the iPads in his last column, making it 16 million "Apple PCs). I can't think of another explanation. Problem is that Macs are already included in "Global PC sales".
These dropoffs are just too steep without an error.
As a check this is what my graph looks like NOT counting the iPad as a computer: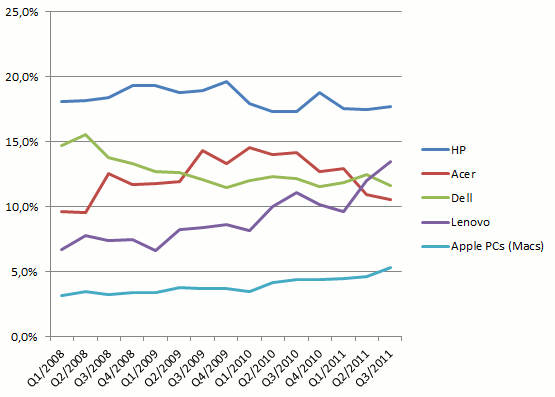 (global PC sales – market share without iPad)
Which looks pretty accurate compared to the graph from Deutsche Bank.
Sources:
Gartner:

Q1/2008 http://www.gartner.com/it/page.jsp?id=939015 (Q1/2009 report with final numbers)
Q2/2008 http://www.gartner.com/it/page.jsp?id=1076912 (Q2/2009 report with final numbers)
Q3/2008 http://www.gartner.com/it/page.jsp?id=1207613 (Q3/2009 report with final numbers)
Q4/2008 http://www.gartner.com/it/page.jsp?id=1279215 (Q4/2009 report with final numbers)
Q1/2009 http://www.gartner.com/it/page.jsp?id=1353330 (Q1/2010 report with final numbers)
Q2/2009 http://www.gartner.com/it/page.jsp?id=1401136 (Q2/2010 report with final numbers)
Q3/2009 http://www.gartner.com/it/page.jsp?id=1451742 (Q3/2010 report with final numbers)
Q4/2009 http://www.gartner.com/it/page.jsp?id=1519417 (Q4/2010 report with final numbers)
Q1/2010 taken from Q1/2011 (see below) – preliminary numbers: http://www.gartner.com/it/page.jsp?id=1353330
Q2/2010 taken from Q2/2011 report (see below) – preliminary numbers: http://www.gartner.com/it/page.jsp?id=1401136
Q3/2010 taken from Q3/2011 report (see below) – preliminary numbers: http://www.gartner.com/it/page.jsp?id=1451742
Q4/2010 http://www.gartner.com/it/page.jsp?id=1519417 (Preliminary)
Q1/2011 http://www.gartner.com/it/page.jsp?id=1632414 (Preliminary)
Q2/2011 http://www.gartner.com/it/page.jsp?id=1744216 (Preliminary)
Q3/2011 http://www.gartner.com/it/page.jsp?id=1821731 (Preliminary)
all Gartner sales figures were taken from the following year's report because then they were finalized.
Only the last four quarters have preliminary numbers. But looking at the data from the years before the changes were in the tens to hundreds of thousands of PCs sold so the numbers didn't change too much anyway. I still took the adjusted numbers just to secure myself against nitpickers 😉

Apple:

Q1/2008 http://www.apple.com/pr/library/2008/04/23Apple-Reports-Record-Second-Quarter-Results.html
Q2/2008 http://www.apple.com/pr/library/2008/07/21Apple-Reports-Record-Third-Quarter-Results.html
Q3/2008 http://www.apple.com/pr/library/2008/10/21Apple-Reports-Fourth-Quarter-Results.html
Q4/2008 http://www.apple.com/pr/library/2009/01/21Apple-Reports-First-Quarter-Results.html
Q1/2009 http://www.apple.com/pr/library/2009/04/22Apple-Reports-Second-Quarter-Results.html
Q2/2009 http://www.apple.com/pr/library/2009/07/21Apple-Reports-Third-Quarter-Results.html
Q3/2009 http://www.apple.com/pr/library/2009/10/19Apple-Reports-Fourth-Quarter-Results.html
Q4/2009 http://www.apple.com/pr/library/2010/01/25Apple-Reports-First-Quarter-Results.html
Q1/2010 http://www.apple.com/pr/library/2010/04/20Apple-Reports-Second-Quarter-Results.html
Q2/2010 http://www.apple.com/pr/library/2010/07/20Apple-Reports-Third-Quarter-Results.html
Q3/2010 http://www.apple.com/pr/library/2010/10/18Apple-Reports-Fourth-Quarter-Results.html
Q4/2010 http://www.apple.com/pr/library/2011/01/18Apple-Reports-First-Quarter-Results.html
Q1/2011 http://www.apple.com/pr/library/2011/04/20Apple-Reports-Second-Quarter-Results.html
Q2/2011 http://www.apple.com/pr/library/2011/07/19Apple-Reports-Third-Quarter-Results.html
Q3/2011 http://www.apple.com/pr/library/2011/10/18Apple-Reports-Fourth-Quarter-Results.html